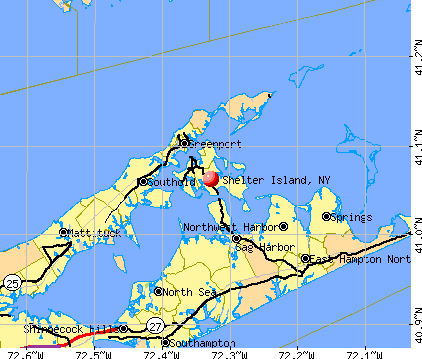 this is
shelter island
. it is located between the north and south forks of long island. well that's what the locals say. i say it's in the crotch of long island.
shelter island got its name from some group of indians (native americans) a long time ago. "the indians called shelter island "
manhansack-aha-quashawomock"
, which means "
an island sheltered by islands
". and that is exactly what makes this island so special." (i stole that from osprey's online guide). it was originally settled by the manhassett indians in 1652. if you look on the map at the tip of the south fork, you'll see montauk. (if any of you value the movie eternal sunshine of the spotless mind, you'll be excited by this little factoid... "meet me in montauk...")
anyway, shelter island can only be reached by boat. there are ferries that run between it and long island that bring all the cars over. the two islands are really not that far from each other, so of course my first question was why don't they just build a couple of bridges? the answer: exclusivity. these people love their secret, hard to reach hideaway. and i have to admit, it is pretty cool. it also means zero crime rate. all the people out here leave their cars and houses unlocked. it's kind of in the same category as lookout mtn., only even more ridiculously separated from the world.
sarcastic remarks aside, it is a beautiful place. it's very relaxed, and even the "fabulously wealthy" wear wrinkled shirts. i was sitting out front of vsc the other night and a couple came riding up on their bicycles. yes, they were there to eat dinner. i've even seen a couple of people bring their dogs with them to the restaurant (i know that just thrills you, mom). we do ask that they sit outside. sorry pooches.